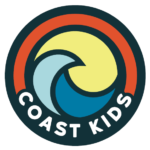 We love your kids and want them to know that God loves them too! Coast Kids has a highly committed team of people who are ready to engage and teach your children while you enjoy the service.  All North Coast Church staff and volunteers are background checked and Live Scanned prior to serving within the Children's Ministry.
Classes are designed to be age appropriate.  For those in our infant to Pre-K classrooms, toys and activities are provided that are suited for each age group.  Children in Kindergarten and above have fun worshiping together, playing in various activities and meeting in small groups during table time. Small groups consist of prayer, Bible verses and activities relevant to that day's Bible teaching.  The 4th and 5th grade classes also offer occasional events throughout the year, including a week of summer camp for incoming 5th graders!
We invite kids to bring their Bibles and their friends and join us each weekend!
All children must be checked in and checked out of a classroom. Please see the Frequently Asked Questions for more info.
Rancho Bernardo - Dedicating your child involves making a promise before God, the congregation and your family and friends to...
Vista Campus - Dedicating your child involves making a promise before God, the congregation and your family and friends to...
Connect with Children's Ministry
Stay in touch with your campus children's ministry through social media.
Is this just a babysitting service?
Definitely not! The children's program incorporates age appropriate teaching time to help build a foundation for understanding God's love.
Children in the 2 year old through Pre-K classes enjoy worship and story time with a craft and activity that helps strengthen that day's lesson.
Kindergarten grades and above include praise and worship, followed by a fun teaching time, and ends with small groups to pray, recite memory verses and learn to use the Bible.
Each campus has specific procedures but all require children to be checked in and picked up in their classroom.  If you would like more detail, contact the campus children's pastor.
First time visitors will be asked to complete a registration card for each child.  It is important that you indicate if your child has any allergies, special needs or custody issues so we can address your needs.
All campuses have a notification system for Pre-K and younger children so the parent can be reached during service if needed. When you check in, you will receive further instructions on how this works for your campus.

When a child (Pre-K and younger) is checked in to a classroom, the person who drops off the child (usually the parent or grandparent)

is given a pick-up slip. The person in possession of the pick-up slip is the only person to whom we will release

the child from our care.
The screening process for volunteers includes an application, interview and reference checks. In addition staff members and volunteers, age 18 and older, that work in Children's Ministry have a Live Scan and criminal background check performed by the North Coast Church Safety Team.
We are thankful that so many quality volunteers have stepped forward to help teach kids about the Bible and to encourage them in their walk with the Lord.
We encourage parents to take their children to the restroom before the service begins. However, if the need arises, children are escorted to and from nearby restroom facilities by two staff members or adult non-related volunteers.
For the safety and respect of the children in our classroom, if your child has a runny nose, cough, or fever, please do not bring them.